G&G GPM92 GP2 Walnut Wood Grip Announced by G&G
G&G GPM92 GP2 announced By G&G. The GPM92 GP2Walnut Wood Grip. Its due to be released in June 2020 although it's currently uncertain if this will be worldwide!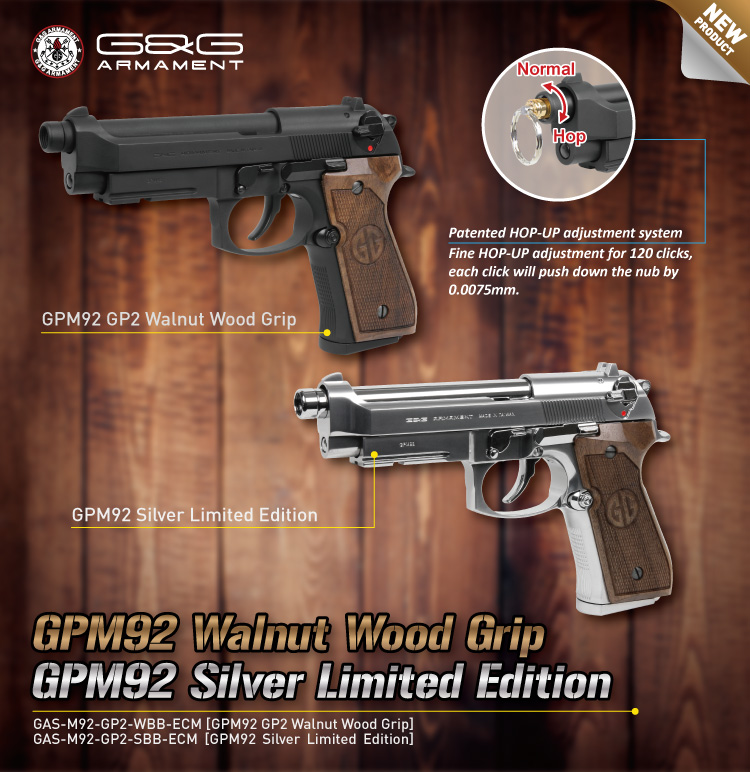 The G&G GPM92 GP2 Comes in both a walnut wood grip in black and also a limited Silver edition.
The new GPM92 GP2 pistols offer an easier way to adjust the hop-up. As seen above, the gun utilises a fake bullet to adjust the hop-up form the barrel tip. The GPM92 GP2 pistols will come with a hard durable pistol case, a speedloader, and the fake bullet adjustment tool.
Both guns will be Gas Blowback and run on Green gas. FPS will be nation-specific to coincide with local rules and regulations. The standard magazine holds 27 BBs.
As you can see from the pictures above its not a bad looking pistol, and its nice to see a real Walnut wood grip on an airsoft pistol! I Think id prefer the silver edition If I can get my hands on one! what are your views? leave a comment!