Tm Glock 17 Out now – I want this GBB
A few weeks ago we announced the TM Glock 17 Gen 4 As part of the Tokyo Marui online event, the MARU-FES. Even with the Covid situation the Glock 17 Gen 4 is out on Shelves now! Keep your eyes out at local retailers and grab yourself one!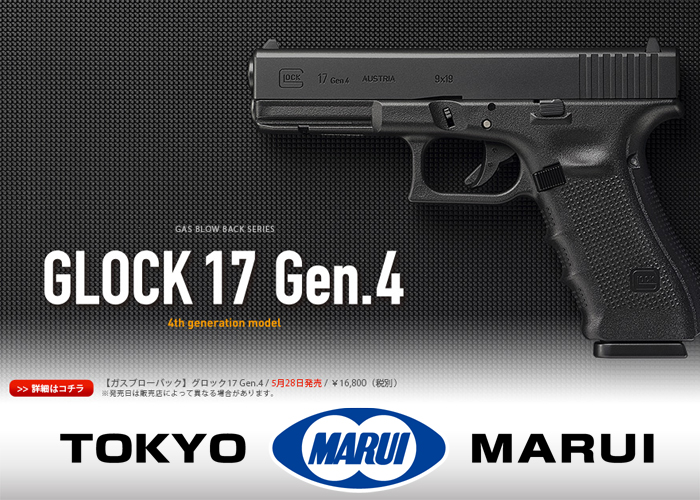 Main Features
● Reel Steel specs : The TM Glock 17 is designed on the real firearm to bring it as close to the real thing. The extractor, which is usually moulded into the slide, is now a solid metal piece. Now attached to the slide.
● Cylinder : A 15mm cylinder allows a powerful blowback recoil and better accuracy whilst shooting
● 4th Generation Frame : Now based on the most popular Glock frame. It features a one slot rail allowing for a flashlight. With an ergonomically designed grip.
● Lanyard Ring : Hole included to attach a lanyard.
● Cocking Indicator: Tigger system stays locked when no BBs are present. Pulling back the slide will move the trigger forward showing the gun is now armed, just like the real firearm.
● Diecast Magazine: The 24 round magazine is full metal allowing for better stability in cold weather.
Series: Gas Blowback
Price: JPY 16,800 (156 USD, £129)
Release date: May 28th
Features of the TM Glock 17
The texture of the nonskid grip, replaceable backstrap, and L-R compatible magazine is designed to match the real Glock Gen4.
Compatible with the existing G17 Gas Magazines.
Equipped with the same Glock 19 block back engine released last year.
Production Specifications:
Length: 202 mm
Inner Barrel Length: 97 mm
Weight: 709 g
Capacity: 25 + 1 rounds
Caliber: 6mm BB (0.2〜0.25g)
Power Source: HFC134a, HFO1234ze+LPG